Fuga platform development
For the past two months, we've started performing updates and implementing new features in bi-weekly sprints instead of longer development cycles. The results of these sprints aren't always immediately apparent to our Fuga users, as some of them are updates for stability or preparations for future functionality. We're developing and testing them at our test and staging environments, and roll them out into production when they're deemed stable enough.
These are some of the improvements we've been working on recently:
Our object stores are now available through https, as well as http. You can now address your containers/buckets and objects at https://yourbucketname.object.api.fuga.cloud/file or http://object.api.fuga.io/swift/v1/yourbucketname/file
Additional security measures have been implemented to prevent abuse of the platform.
We've implemented a new storage tier for block storage (Cinder). This new tier will be part of the new, lower pricing that we will be introducing see (see below).
Our development team has been hard at work implementing a new Single Sign On system to streamline accounts between the different components of our service. The implementation we tried, however, failed to deliver the results we intended. We will soon try a different approach.

Beta features and the Fuga platform roadmap
Because we understand our users are curious about features and functionality we're planning and working on, we intend to add a new Fuga roadmap to our website very soon. We want to remain open in our development process and want our users to remain involved with what we're doing. Our roadmap will show you what features we currently have in development, which are in a testing stage or ready for acceptance (both labelled as beta), and which ones have been put into production.
Features that are currently in the beta stages will become available in the Horizon dashboard (with a beta label). While in beta, these features are free to use, but we offer no guarantees regarding or official support. We do love to receive bugs and feedback while these features are in beta.
The following services will become available as beta this week: VPN as a Service, Load Balancing as a Service and DNS as a Service.

Lower storage prices
As mentioned above, we've implemented a storage tier that will become available in the beginning of June. You can find the new tiers and pricing below.
| Storage type | Old price | New price | Change |
| --- | --- | --- | --- |
| Volume storage (high) | € 0.5000/GB/month | € 0.3000/GB/month | – 40% |
| Volume storage (regular) | € 0.3250/GB/month | € 0.2500/GB/month | – 23% |
| Volume storage (low) | new | € 0.1500/GB/month | n/a |
| Object Storage | € 0.1500/GB/month | € 0.1000/GB/month | – 33% |
| Snapshot Storage | € 0.3250/GB/month | € 0.1000/GB/month | – 69% |
| Image Storage | € 0.3250/GB/month | € 0.1000/GB/month | – 69% |
The new pricing will be introduced in the June billing cycle.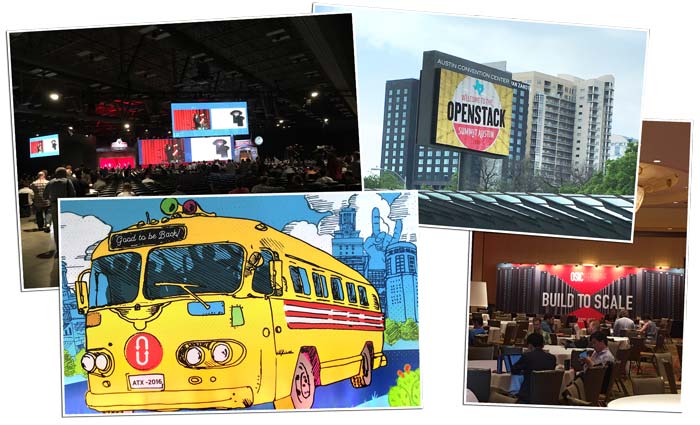 Highlights OpenStack Design Summit Austin
The twice-annual OpenStack Summit wrapped up last month in Austin, Texas. It brought together 7,500 developers, users, and other open source cloud enthusiasts from around the globe. (For comparison: the very first OpenStack Summit also took place in Austin, in July 2010, and attracted 75 attendants.) Our managing director Paul Bankert was present in Austin to stay closely informed on new developments and trends in OpenStack, as well as to discover what's on the development horizon for the next OpenStack Release (Newton).
Fuga platform maintenance Friday 3 June
Due to the growth of the Fuga platform, the controller nodes within the Fuga platform are currently sometimes low on memory. As as result, at times we experience degraded performance within the cloud platform. We will therefore install additional memory into the servers this Friday (3 June), which will resolve these issues. We will start the maintenance window at 07:00 CEST and we expect the maintenance to last until 09:00 CEST. During this time, we expect some interruptions to the networking availability of instances.
Phasing out of ephemeral storage on instances
Because we've found that the use of ephemeral (local) storage has an adverse effect on availability of the Fuga platform during maintenance and in case of hardware problems, we've decided to discontinue its use. Since users of our platform are currently using ephemeral storage, we won't do this overnight and will announce this well in advance. These instances and pricing will become available somewhere this summer.
No more costs for shut-off instances
Some of our customers have wondered about the fact that we charged for instances that still exist, but are not in use. We've decided to honor that request and will soon no longer charge instance costs for instances with the status 'Shut Down.' Costs for storage of these instances, however, will remain. We plan to implement this within the next month.
New image available: Ubuntu 16.04 LTS (Xenial Xerus)
Two years after the previous Long Term Support (LTS) release of Ubuntu – 14.04 Trusty Tahr – it's time to move on to version 16.04, Xenial Xerus. This LTS was released on the 20th of April 2016 by Canonical and is now available in our Fuga Glance image library. While new Ubuntu Desktop and Server releases appear every six months, LTS versions are released every two years, and are supported by Canonical for five years after release. This means that they constitute a stable platform for deploying production systems, and receive security updates and critical bugfixes for a substantial window of time. 16.04 will continue to be updated until April of 2021.
New and updated tutorials
We've updated some of our existing tutorials to reflect changes in OpenStack Liberty and Mac OS X. There's a few new ones too.
Visit the Fuga Forum for all tutorials.