You are -about to become- one of the amazing people using Fuga Cloud.
I have a Fuga Credit Card
At Fuga Cloud we love it if people want to explore the possibilities of our (European) Cloud. But we also love our loyal Fuga Friends and love giving gifts. We have nice swag, but now we also have credits.
At the moment your credits can only be exchanged for a discount on your invoice. We are working on ideas where you can use credits for test days, products, resources or swag.
How to collect my credits?
1. Sign up for an account or login with your existing account,
2. Enter your private code after your payment method in our Dashboard
3. We give you discount on your next invoice.*

*It is possible to use your credits for an EMK testing period (see below).
I have a Fuga Boarding-pass
We have met you at CLoudFest 2022 and now you are the proud owner of a Fuga Boarding Pass. This is all you need to have access to a free testing period of 30 days of Fuga.
Really! 30 days of free testing (worth €300 - €500).
Within those 30 days we hope to give you the complete experience. To give you enough time and recourses to play with all the possibilities. Enough time to migrate all your data and thus make the most of the test period. And during this test period, our Cloud experts are also standing by to provide support and advice, so no worries.
All you have to do is login with your Fuga-account or create a new one. Enter the personal code of your boarding pass and enjoy your 30 day Free testing.
EMK Early Bird Extra Credit Bonus!
Yes, it is a mouth full, but then you have an extra big bonus!

If you have received a Fuga Credit Card from us at CloudFest, you can also use it to test our EMK (Enterprise Managed Kubernetes). We will notify a special list for this event. If you want to receive a notification please click on the button below and fill in the form on that page.
Fuga Cloud reserves the right to stop your test account at any moment. A reason could be abuse of our resources. We will inform you when we stop your account, but we are not obligated to provide sorts of proof. By signing up you agree to the Terms of Use.
Do you need some help?
Our engineers are always on standby. This way you or your IT department can communicate directly with our Cloud specialists. And by 'our engineers' we really mean our engineers from Alkmaar. Questions or ambiguities are dealt with very quickly this way. On working days we can be reached by telephone, chat and e-mail from 09:00 to 17:30. You can ask your questions in Dutch or English. But it is also possible to submit a ticket via the Fuga dashboard, just as easy, just as quick.
Besides our supportdesk we offer you free tutorials and How-To's in our Fuga Academy. You may already find the answer there. Anyway, it's definitely worth a visit to see what we have to offer. And check back often too, as we keep updating and adding more.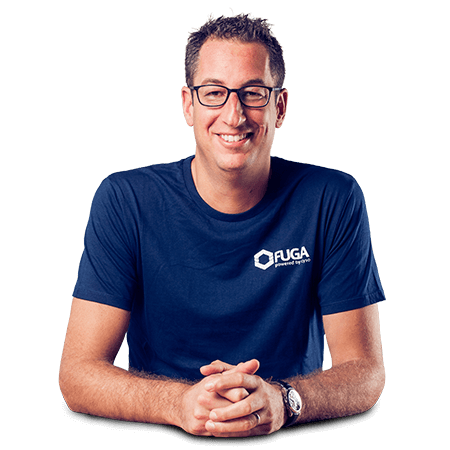 Got some questions?
I like to hear from you!

Proudly made in The Netherlands
Copyright © 2022 FUGA BV