An invoice is sent out at the end of each billing cycle, listing previous usage and charges.
Every flavor size includes CPU, RAM (memory), storage and a high amount of free IOPs. This is also called an instance or VM (Virtual Machine).
Disk size, memory, and network usage are calculated in gigabytes (GB), where 1 GB is 1,000 MB and 1 MB is 102,481,024 bytes.
Prices on this page are listed in Euro (EUR).
Take a look at our pricing page for the pricing of all of our products and the compute page for more information about Compute.
Compute billing model
The following billing model applies to all flavor types.
There is no setup cost
There is no minimum charge
Instances are charged in one-minute increments
The hourly rate is determined by dividing the monthly rate by 672 hours (28 days). If your server is online for more than 672 hours in a calendar month, you will only be billed the monthly rate.
Instances in a Shut Down state are billed. The state continues to reserve dedicated system resources (RAM, SSD storage, Floating IP, CPU) and therefore incur charges until you delete the instance.
Single core geekbench score
For every project a suitable solution
Compute offers four flavor types: Entry Level (t), Balanced (c), Memory Optimized (m), CPU Optimized (p).
This gives you the liberty to choose a well-suited solution for your project without paying too much for other resources you might not need.
Images
Free OS images
Fuga Cloud provides a wide range of ready-to-use free of charge OS images for your instances, or you can create and upload your own. Making it easy to deploy instances with your preferred operating system in seconds.
Your own images
We allow you to upload custom images as long as you take care of licencing. Have a look at the supported image file types.
| Name | Price |
| --- | --- |
| 1 GB of Image Storage | €0.1000/mo |
Snapshots / backups
Snapshots are instantaneous copies of instances. They contain an image of the state of the filesystem at the moment that the snapshot is taken. A snapshot of an instance can be used as the basis of an instance and booted up at a later time.
If you make a snapshot of your instance, the total disk space of this Snapshot will be the total of the provisioned disk space of your backup instance. For example, if you have a c2.4xLarge instance (provisioned disk space is 20 GB) but you only use 10 GB, the Snapshot will end up being 20 GB.
| Name | Price |
| --- | --- |
| 1 GB of Snapshot Storage | €0.1000/mo |
(Floating) IP addresses
When you create an instance, it receives a free private IP address. Your instance is accessible for other instances with this private IP address . If you want to access your instance over the internet, you'll need to associate a (floating) IP to this instance. A floating IP is an IP address on an external network.
| Name | Price |
| --- | --- |
| Floating IP | €1.00/mo |
Unused IP addresses
When an allocated Floating IP is disassociated from an instance without being released back into the pool, you will continue to be billed for it because the Floating IP is still reserved for use. This means you can still associate it with another instance. Only when you release the Floating IP back into the pool, billing will discontinue and there is no way back to retrieve it.
Expand your instance with extra storage
Every flavor type includes a certain amount of storage (Ephemeral Storage). This is enough for a basic setup. If you need more storage you can do this by creating a Volume. Upon creation, it is raw data, but it can be attached (mounted) to instances, partitioned and formatted. This way you make it easy to scale.
The maximum IOPS performance of the Volume Store is for read 5 GB per GB Volume Storage and write 5 GB per GB Volume Storage. This means that when you purchase 100 GB of volume storage you have 500 GB of read and write available. Of course this is subject to the load, specifications and the type of workload of the chosen flavor.
You can find more information about storage types on the storage page.
Easy to contact
ISO Compliant
99.99% uptime SLA
No vendor lockin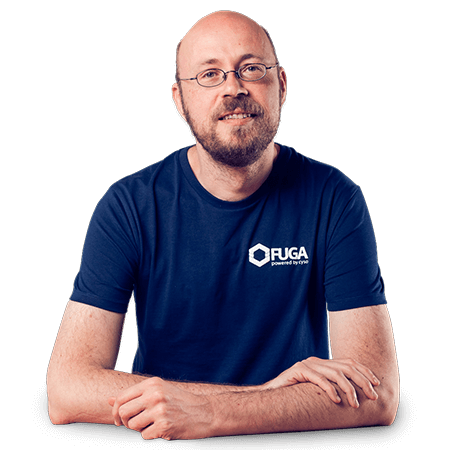 Still have questions about how we can help your business?
Experience yourself how easy it can be to build, deploy and scale on Fuga Cloud and create your project today. If you still have questions we have more answers on our FAQ page and are always happy to answer your questions on the chat.
Read more FAQ